SJ-ODB-M04 Wand befestigter Innen Fiber Optical Distribution Box 24 Cores,
Fiber Termination Box / LWL - Verteilerschrank
Eigenschaften:
Application: Fiber Optic Distribution Box is used for splicing
and distributing fiber optic and it also protects fiberoptic splices.
The distribution box is an indoor type, suitable for wall-mounting
application, which is mainly used in telecommunication equipment
room and network equipment room. FeaturesThe housing of distribution
box is made of high quality metal. The material has excellent mechanical
strength. It is of nice shape and appearance with electro-static spray
painting, It is equipped with adaptor panel, suitable for FC or SC adapters,
therefore it is easy to install, inspect and test.
The adaptor panel makes it easy to install, inspect and test. It contains
splicing and distribution area. Book style tray design makes it easy for
installation and maintenance. The curved diameter meets with international
standard. Accessories provided with the distribution box:
Heat shrinkable protective sleeve, nylon tie, labeling paper, Insulation tape;
Accessories to be ordered in addition: Adapter, pigtail, patchcord.
Name: Innenwandmontierte Optikverteilerbox
Modell Nr .: SJ-ODB-M04
Abmessung (HxBxT) mm: 450X380X70
Kapazität: 24 Fasern
Material: Kaltgewalzter Stahl oder Edelstahl.
Montage: Wandmontage oder Pole Montage.
Farbe: Schwarz / weiß, oder nach Kundenwunsch angepasst werden.
Verwendung: Weit verbreitet im FTTH-Zugangsnetz, Telekommunikationsnetzwerke.
Beispiel: Freie Probe vorhanden.
Lieferfrist: Es abhängig von der Menge Ihrer Bestellung. Normalerweise 10-18 Tage für einen 20 "Container.
Export Hafen: Ningbo oder Shanghai
Versorgungsmaterial-Fähigkeit: 20000 Stücke / Woche
Fracht: Luft, Meer, Express (Tür zu Tür Versand DHL, FEDEX, TNT, UPS)
Verpackung: 6 PC / Ctn oder kundenspezifische Anfrage
Bemerkungen:
1. Die Gesamtdimension kann nach Bedarf angepasst werden.
2. Die Konfiguration der Box kann nach Kundenwunsch angepasst werden.
Anwendungen
Optisches LAN & WAN & CATV
FTTH-Projekt & FTTX-Implementierungen
Breitband-Hochgeschwindigkeitsdatenübertragung
Aktive Geräteabschlüsse
Prüfgeräte
Kommunikationsfasern für optische Fasern
PON Netzwerke
Optische Signalverteilung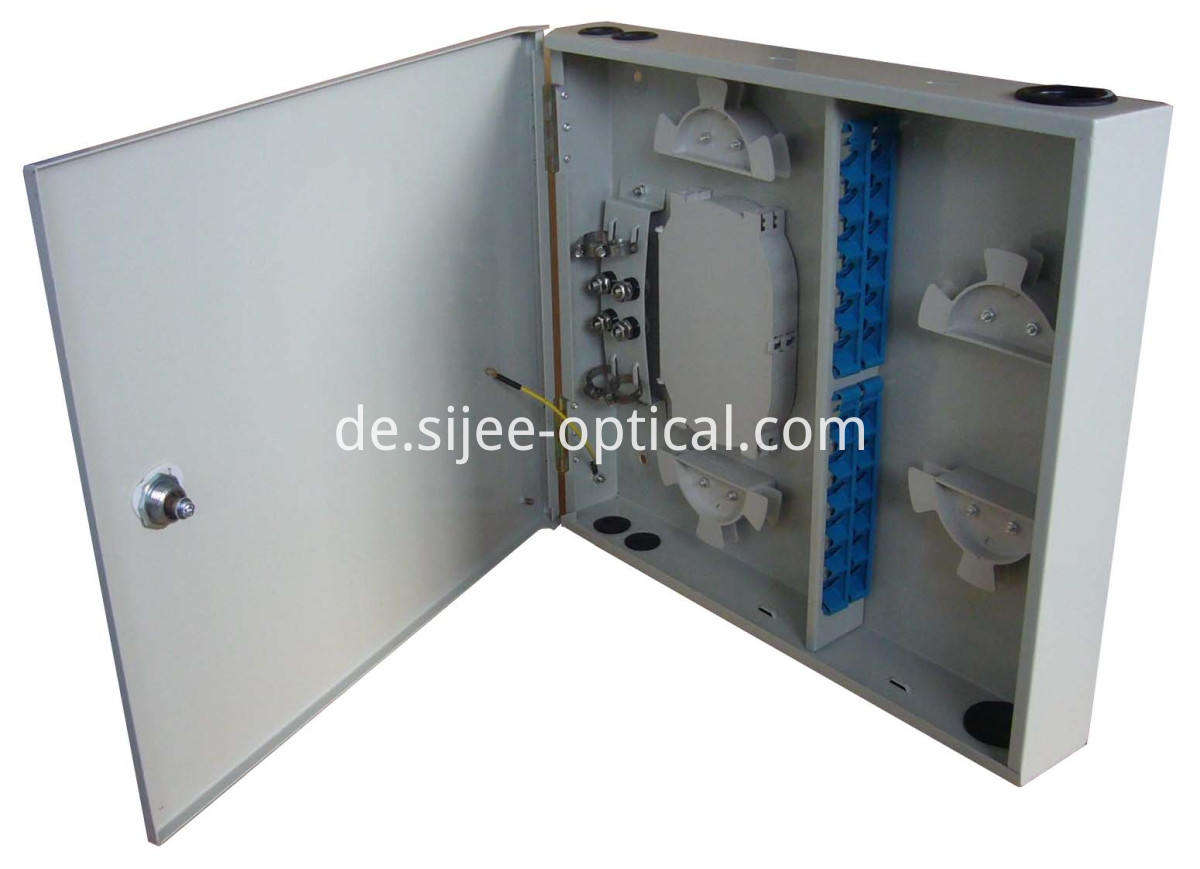 Alle mögliche Fragen gefallen in Verbindung treten mit mir ohne zögern, ich verspreche irgendeine Ihrer Anfrage erhalten unsere sofortige Aufmerksamkeit u. Antwort in 2 Stunden. Hoffnung erhalten wir eine Gelegenheit, Ihrem geschätzten Unternehmen zu dienen.
Q1 Kann ich einen Muster bestellen
A: Ja, Profi-Hersteller, 100% geprüft, freie Proben sind vorhanden.
Q2 Was ist mit der Vorlaufzeit?
A: Probe dauert 3 Tage, Massenproduktionszeit dauert 1-2 Wochen für Bestellmenge mehr als
Q3 Was ist mit OEM?
A: OEM-Service mit 15-jährigen Erfahrungen, Herstellung nach Ihren Wunsch.
Q4 Was ist mit dem Shippment und wie lange dauert es?
A: Waren werden normalerweise durch DHL, UPS, FedEx oder TNT versendet. Es dauert normalerweise 3-5 Tage, um anzukommen. Fluggesellschaft und Seeschiff auch optional.
Q5: Bieten Sie Garantie für die Produkte an?
A: Ja, wir bieten Ihnen 1-2 Jahre Garantie auf unsere Produkte.
Q6 Bestellführer wie folgt:
A: Erstens wissen wir Ihre Anforderungen oder Bewerbungen.
Zweitens zitieren wir nach Ihren Wünschen oder unseren Vorschlägen.
Drittens Kunden bestätigen die Proben und Plätze Ablagerung für formale Bestellung.
Viertens arrangieren wir die Produktion.
Für weitere Produkte:
Produktgruppe : Innenfaseroptische Verteilerkasten (Metall)